The murder of George Floyd
A multi-perspective take on the news surrounding the tragic death of George Floyd in the US.
In a nutshell
George Floyd, a 46-year old African-American man died in Minneapolis, Minnesota on  25 May 2020 after a policeman knelt on his neck for several minutes. His death has sparked a wave of protests and rioting in the US, in cities such as New York, Washington DC, Minneapolis and Los Angeles.
Who is George Floyd?
George Floyd, who Sky News reports was known as the 'gentle giant', had one daughter aged 6.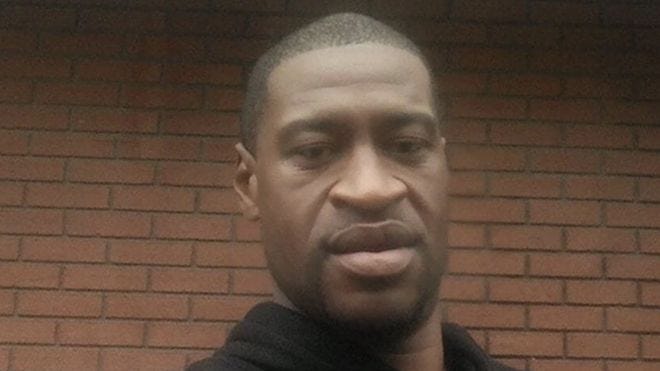 Image credit: Twitter/Ruth Richardson
According to the Chicago Tribune George Floyd had moved to Minneapolis from Houston for 'a fresh start' but was 'suffering the same fate as millions of Americans during the coronavirus pandemic: out of work and looking for a job.' He had previously worked as a truck driver and a security guard and, according to Chron, he previously worked with the police officer charged with his death.
How did George Floyd die?
BBC News reports that the police were called by a neighbourhood grocery store alleging George Floyd had tried to pay with a counterfeit $20 note. Police officers attempted to arrest him and put him inside the police vehicle when he dropped to ground telling them he was claustrophobic. Aljazeera reports that Floyd was unarmed.
The New York Times says that George Floyd was 'handcuffed and pinned to the ground' by a white police officer's knee. The police officer was named Kevin Chauvin. The incident was filmed on a mobile phone by an onlooker and George Floyd can be heard  saying, 'I can't breathe.' Bystanders are heard urging the police officer to get off of Floyd. The police officer did not move and several minutes later George Floyd became unresponsive. MSNBC reports that the police officer continued to kneel on his neck for 2 minutes and 53 seconds after this point. He later died in hospital.
What has the response been to George Floyd's death?
After footage showing the police officer kneeling on George Floyd's neck circulated, mass protests and riots began, demanding that the officers involved face prosecution. Protestors have carried placards and worn masks with the words, 'I can't breathe,' referencing George Floyd's last words.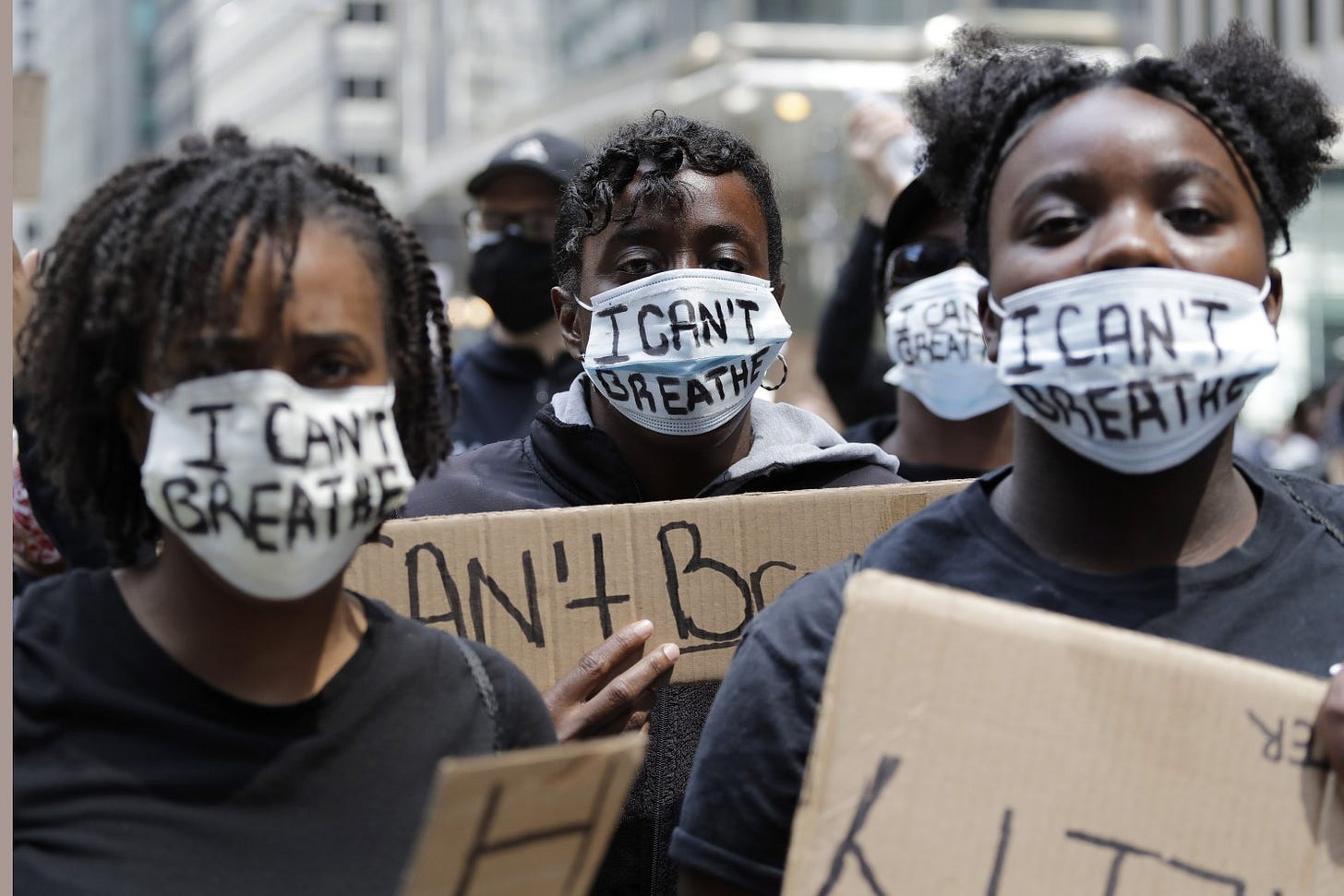 Image credit: Los Angeles Times/Gary Coronado
An investigation into George Floyd's death saw Kevin Chauvin, the man seen kneeling on George Floyd's neck, charged with third-degree murder and second-degree manslaughter due to evidence from the mobile phone recording. These charges carry a combined 35-year maximum sentence. All of the other police officers involved have been fired from the Minneapolis Police Department.
Protests continue across the country with pledges to continue until all four police officers involved are charged. 
The Chicago Tribune reports that the protests 'are fueled by outrage over Floyd's death and years of police violence against African Americans.' According to Fox News, violent protests have seen protestors destroying police property, including police vehicles.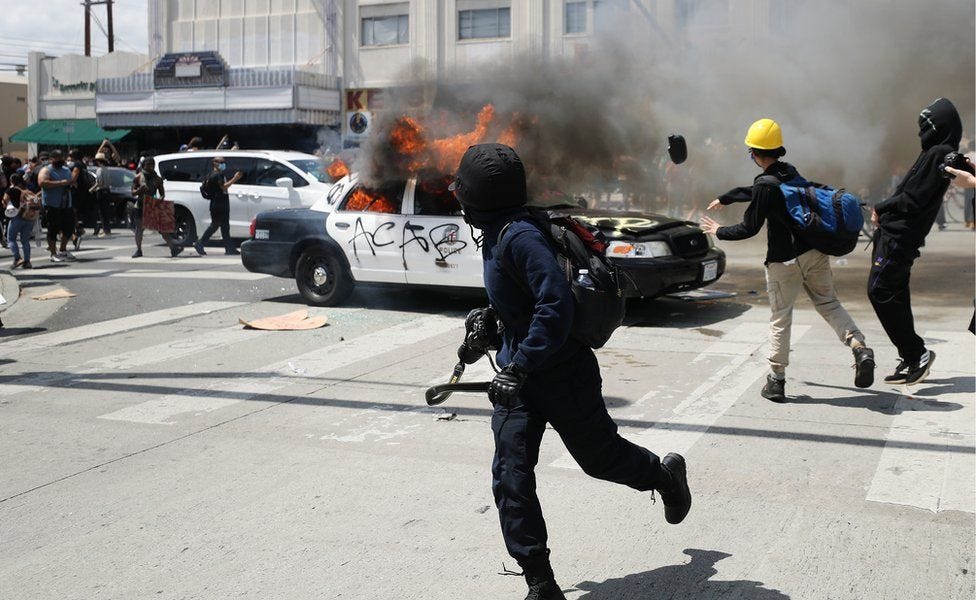 Image credit: Getty Images
The Washington Post has covered the escalating tensions in Minneapolis, from thousands peacefully kneeling on a public highway to dozens of buildings being set ablaze and residents guarding their homes with guns and clubs. Several cities have seen violent clashes between the police and protestors, leading to curfews being imposed and the mobilisation of the National Guard in several states, according to CNBC.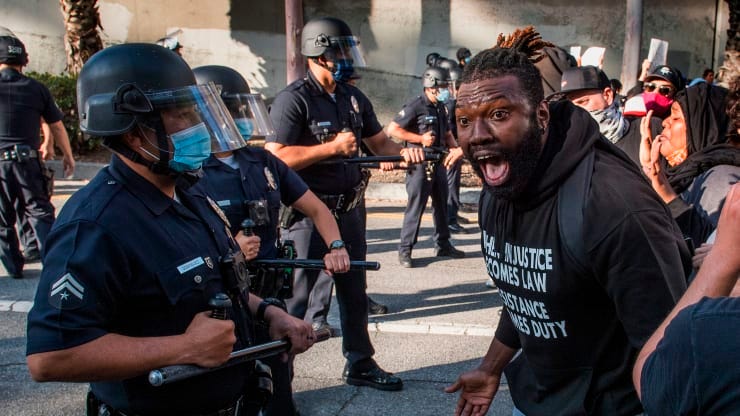 Image credit: Getty Images/AFP/Mark Ralston
Donald Tump's initial response to George Floyd's death was on 27 May, two days after the death occurred. 

His tweets two days later focused on the protests in Minneapolis: 



His tweets later focused on the protestors outside of the White House:




Yesterday Trump addressed the nation and spoke of George Floyd's death and the protests: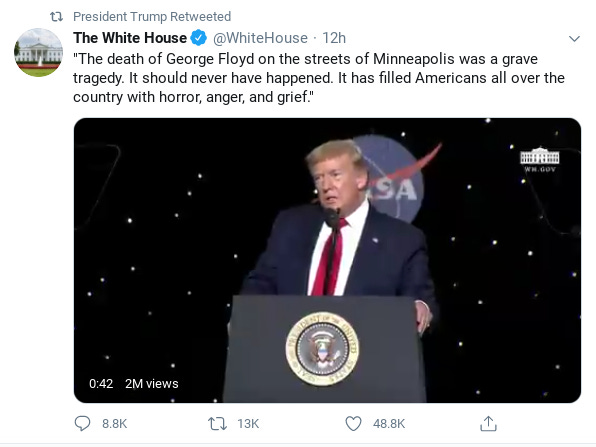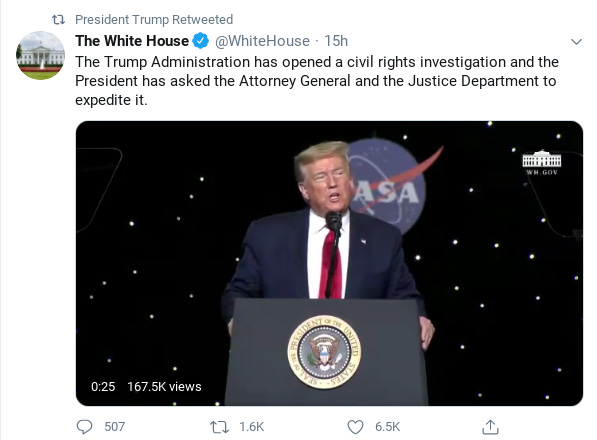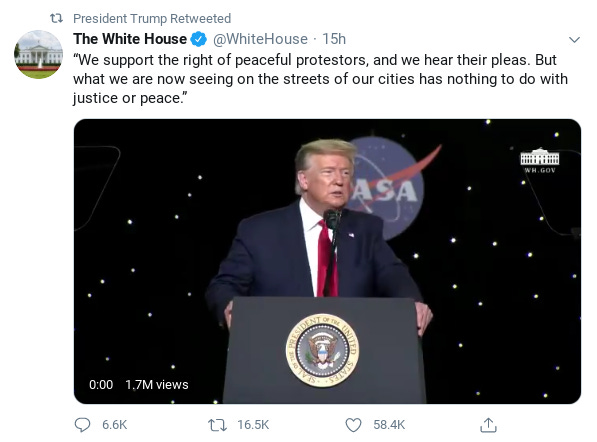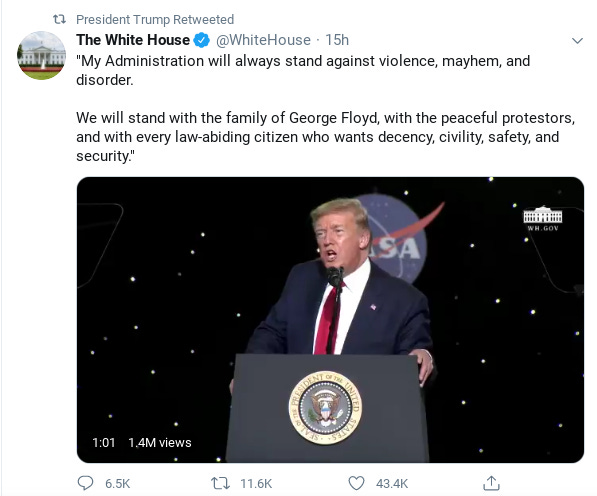 CNN reports that Donald Trump called George Floyd's brother but that the conversation was so fast that his brother didn't get a chance to speak.
Many have flocked to social media to express their outrage, including celebrities such as Cardi B and Kim Kardashian, Buzzfeed reports. Martin Luther King III tweeted:


While Madonna has been criticised for posting a video of her son's dancing tribute to George Floyd.
What else is there to know?
George Floyd's death is not a case in isolation. Headlines were already made twice this year after the deaths of African-Americans Ahmaud Arbery and Breona Taylor due to police brutality. The deaths of these three individuals in close succession have been described by The Conversation as, 'a series of modern lynchings.' The Conversation goes on to draw comparisons between mobile phone video recordings and images of lynchings that circulated in the early 1900s. 
According to the LA Times, getting killed by police is a leading cause of death for black men in the US. Around 1 in 1,000 black men and boys in the US are expected to die from police brutality, which is 2.5 times higher than the statistics for white males.
Fox News, however, calls into question the validity of the claim that police brutality killed George Floyd, stating that, 'Things are often more complicated than they appear at first blush,' and pointing out that, 'Floyd appears not to have died from asphyxiation or strangulation.'
A new video published by CNN recorded from a different angle appears to show three police officers kneeling on George Floyd during his arrest. 
Claims have been made that peaceful demonstrators have been hijacked by anarchists and outside agitators who are looting and destroying buildings in Minneapolis. However USA Today reports, 'the majority of arrests so far have been of Minnesota residents.'
How can we help?
Various posts have been circulating on social media with some offering advice to allies of the Black Live Matter movement. For example, das.penman posts on how white UK residents can promote anti-racism. Others advocate protesting or sharing anti-racist messages on social media to raise awareness of police brutality and to force the US government to take action.